We provide irrigation on-demand for smallholder farmers.
How We Work
1. Registering Farmers
We register farmers' plots by recording the plot coordinates and area, as well as personal and agronomic details of the farmer. Registered farmers are given a barcode to identify their specific plot details at the time of service.
2. Agronomic Training
Registered farmers are given training on good agronomic practices for irrigated vegetables. This is to help them set up their plots to save water and labor during irrigation, knowing when to irrigate, as well as improve crop protection, spacing, staking, and crop nutrition so they earn more from irrigated plots.
3. Irrigation Service
Farmers request our staff for irrigation when conditions are dry, and we dispatch water pumps to provide them irrigation. Farmers are charged based on the service time and fuel used, calculated by a custom smart-phone app in the field.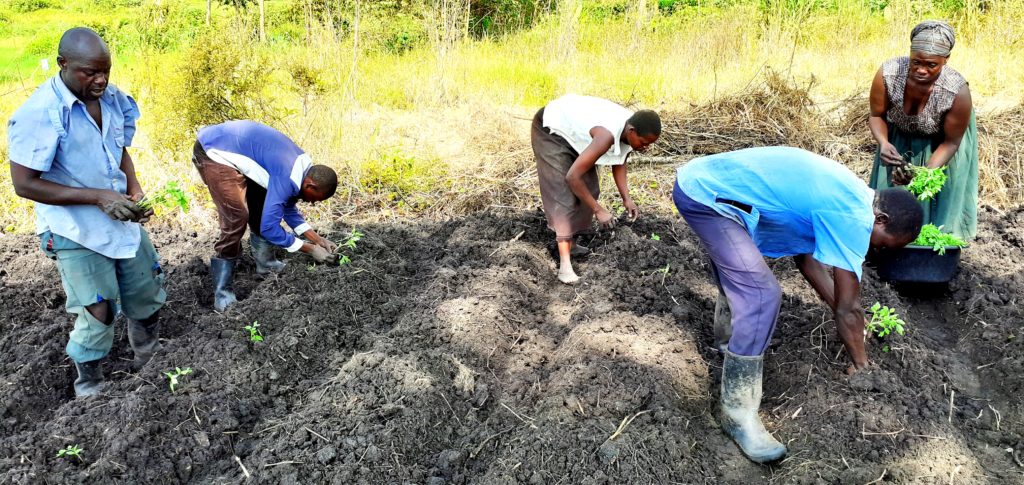 Where We Work
We currently offer irrigation services in Elgon Region, Eastern Uganda. Our customers for other products are located throughout Eastern and Northern Uganda.
Other Products
Mobile Irrigation Systems
The Agriworks Mobile Irrigation System (AMIS) is a mobile, modular system for 1 – 5 acres. Because it is mobile, it can be shared by more than one farmer, and because it is modular, farmers can upgrade in a piecemeal way as they earn from the technology. Our design is extremely easy to learn & use, and requires minimal technical knowledge from the farmer. This gives it a low cost of sale, and makes it profitable for farmers in the first season after purchase.
PICS Bag Credit
PICS bags are hermetic storage sacks for grains, which preserve crops without pest damage. We offer PICS bags to savings groups which pay over the course of a year.